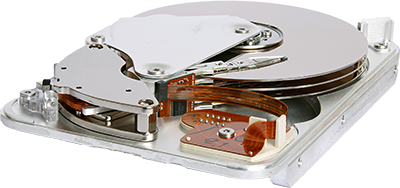 Data recovery is the process of salvaging and handling data from damaged, failed, corrupted or inaccessable storage media.
Hard disk drive data recovery requests happen more often than you may realise. Failures and loss of data commonly occure due to the following reasons:
Hard disk media failure
Overwriting or formatting hard disk
Accidential or malicious file deletion
Virus or malware infection
Damage due to power surges
Treen Technology has equipment for and expertise recovering data from the following media types (but not limited to):
Hard disk drives (SATA, SAS, IDE and SCSI).
Solid state drive (SATA, SAS and IDE).
External hard disk drives (USB, Firewire, Thunderbolt, SCSI and Parallel).
USB Flash Drives
Removable media cards (SD, Compact Flash, SmartMedia and Memory Stick)
Floppy Disk (3.5" and 5.25")
Iomega Zip and Jaz
Please note if you attempt data recovery yourself with improper tools or experience it can make the data recovery process more difficult and in many cases more costly. If you experience data loss please immediately shut down and disconnect your computer or storage media. Continued use of failing media will often make the data recovery process harder.